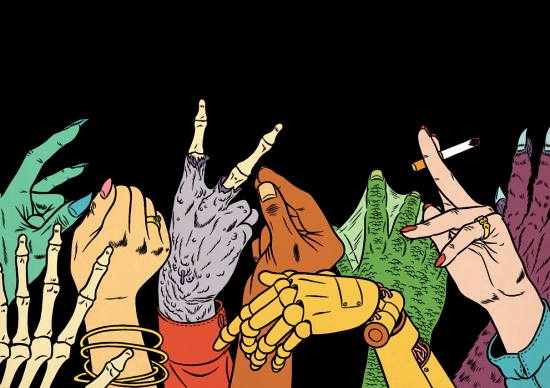 Obviously I haven't been posting much recently. I've got a problem. Others have written before about the perils of spending all your time connected to the internet. The NADD, the ADD, the email twitch. I have a related problem. Perhaps specific to the particular way I work online, but I suspect others might be having similar issues as well….

I spend all of my time ignoring information. Scanning pages. Clicking "Next". Deleting spam. Browsing headlines. Can I ignore this? Can I move on now? These are the questions in my mind all the time. I spend my days looking for reasons to move on as quickly as possible from every bit of information. I'm not looking for reasons to learn more, I'm looking for reasons to learn less. To remain ignorant.
In part, this way of being is defensive; there's just so much information out there. So many images, so many stories, videos, songs. I don't have time to examine even a thousandth of what I see to any level deeper than the grooves on your cutting board. So why not examine less but at a deeper level? Why not just pick the good stuff, the cream, the icy frosting on top of the crap-cake that is the web and savor every sweet bite?
A couple reasons. One is my day (and night) job. I look for arbitrage opportunities in semi-liquid, online-tradeable markets. "Arbitrage" is just a fancy word for buying low and selling for just a little bit more, except you do it in real time, super-quick turn around, faster than cats. These opportunities come up then disappear again within months, weeks, or even just a few days. For every promising prospect I examine, there are thousands of apparent dead ends. The virtual world is a coal mine where some folks break their backs digging out tons of low-priced carbon; I look for the shiny stones. As I scan the walls, I want to spend as little time as possible picking at a worthless stake. Even when I think I've found something interesting, most of my effort goes into looking fore reasons to quit investigating. To pull back, move on.
So why bother? That one gem, that golden vein in this overworked metaphor, could be worth a whole year's salary, maybe more. It's happened before. It will happen again. Meanwhile, I need to keep my eyes open to everything. Take in just enough information to move on, to ignore. Or put it in the back of my head and continue along. If I keep seeing the same thing again, in different contexts, then I might decide that it's something worth checking out.
Another reason I scan through so much, so quickly, is likely shared by many others as well. For our brains, shiny little bits of information are like any other addictive substance. We get a tiny endorphin rush with each new image, every new idea or headline. Problem is, the rush fades as quickly as it came, leaving us hungry for another quick mental snack. So we get stuck in channel-surfing mode, always looking for something new, something different. Rarely content to settle in, turn off the wandering mind and focus hard, to put down the clicker and spend the time and energy to read, to understand.
For the past few months I've begun to pull back from this behavior. I've discovered that I really can still read an entire book, or have a slow conversations, or spend hours looking at artwork. But in order to transition into that mode, I need to disconnect from the information pipeline first. No doubt I'm missing an opportunity here or there, but at the same time I'm getting back my mind, which as we all know is a terrible thing to waste, or misplace, or scramble up with toast and eggs. I might just find it useful.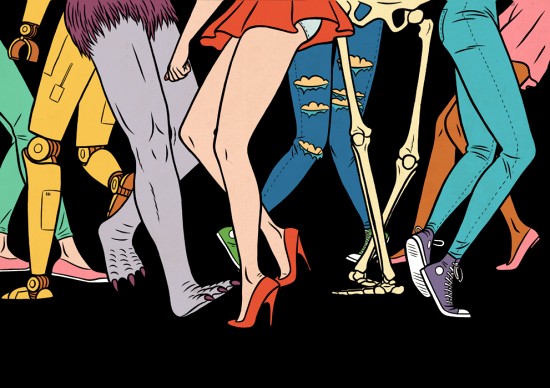 Illustrations for this post are from a music poster by Kristian Hammerstad.