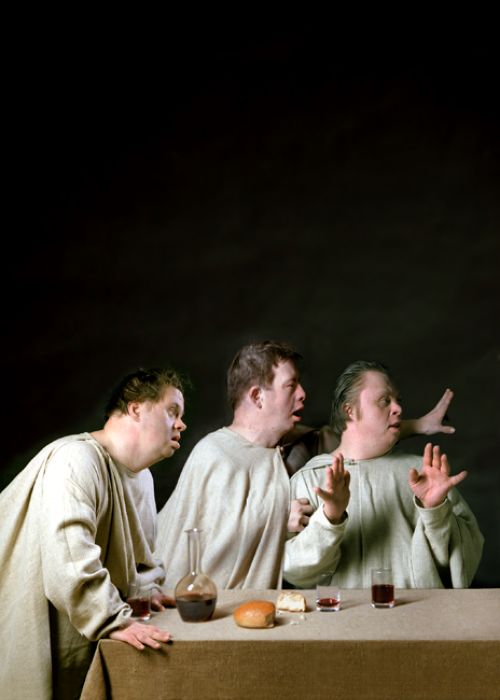 There are lots of modern versions of the Last Supper out there. Shown above is my favorite, in part because of a personal connection I have with it. Photographed by Raoef Mamedov, this sequence of 5 images portrays Jesus and his 12 disciples as "sufferers" from Down syndrome.




"The Last Supper" is an occasionally notorious Rorschach test for artists and critics alike. One author invented an entire plot around his interpretation of a single, albeit extraordinarily famous, depiction of the event. Mamedov's "Last Supper" patterns the poses of his men after da Vinici, which makes his work disarmingly familiar even as it is strikingly different. What I see in the images probably says more about me than about his photos, but here's my take:
In the center as always is Jesus, alone, in a moment of calm reflection. Or perhaps he is drifting into a nap, a possibility that seems borderline offensive. Each cluster of 3 disciples occupies its own large photo, so you can view it as a stand-alone image. Seen all at once (something I had the unexpected opportunity to do once in a church in Utrecht), the effect is nearly overwhelming — startling at first and then magnetically captivating.
I see a series of photos that are funny and brilliant, which seem to border on the exploitative and unfair (Did the actors understand what they were doing? Did they know how their genetic differences were being used by the artist?). As always when confronted by images of human anomalies, I also feel the dual pull of revulsion and captivation.
The figures strike me as awkward, but the blessing of Down syndrome is that the people who have it seem blissfully unaware of this awkwardness. It's those of us with normal chromosomes, with longer lifespans and square shoulders, who are prone to obsess about our physical peculiarities or the ways in which we are social misfits. Perhaps it's hard to look at people who by our calculations should be suffering, then realize we are the ones suffering. This leads me to consider the possibility that Mamedov is the true outlier, the weirdo who just wants to pass for normal, to live his life without being gawked at.
So why not? Why should it seem so strange to see the apostles portrayed like this? Clearly it does seem odd at first, and that is troubling. I have no real answer for why this matters or why it's troubling or why the photos are so hard to look at or so compelling. And that, perhaps, is even more troubling. I keep wanting to see these photos as a cheap shot or black humor or a mistake. But dignity requires that we see the actors as they are: fully human, yet decidedly different. So why can't we just do that?