"Recently we learned of a malicious desecration of a photo of the Governor and baby Trig that has become an iconic representation of a mother's love for a special needs child."
– Sarah Palin spokesperson Meghan Stapelton, on a Photoshopped image of her boss.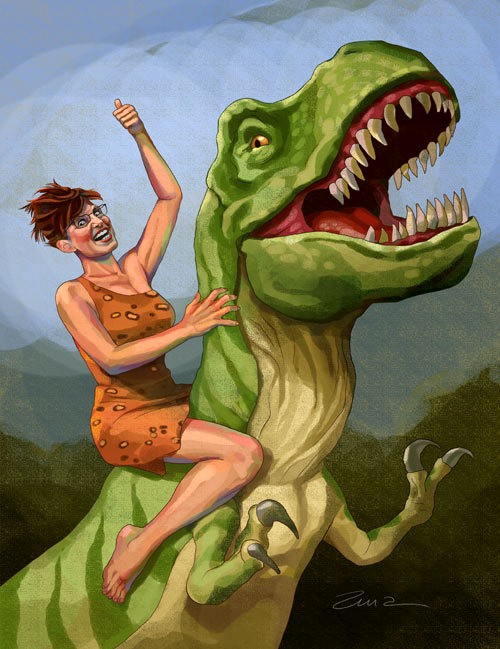 It's been a year since Sarah Palin was a candidate for vice president of The United States, and even her abrupt resignation is now old news. So as usual I'm well behind the curve with my posts, but so are many of the artists featured here; even now more "desecrations" of Palin are being produced. After the jump I've posted a full bounty of Palin-inspired artwork, along with some thoughts on why she makes such an enduring (endearing?) target…

Political choices, especially in the US, tend to be more about voting for "people like us", or "people who we imagine ourselves to be", or "people we aspire to be", than about selecting the best leaders for our respective causes. But there is usually at least some kernel of substance behind our leaders. Palin artwork works, and is so widespread, not just because she's a colorful character, but because she's nothing else. Palin's entire appeal is who she is. Identity and personality completely trump ideology and accomplishment.
Palin is all image, and she takes that image very seriously, as shown by the quote at the beginning of this post. No other American politician in my memory has held their visage to be quite so sacrosanct. This is, ultimately, what makes her such a great target for art and parody.
Here's Sarah Palin is cast as the devil in a street art poster by Frightening Prospect: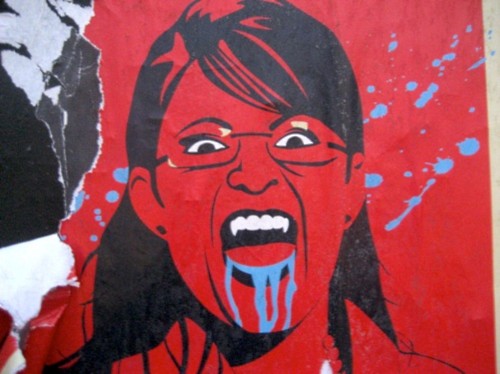 Another street poster is a take on the iconic Obama HOPE poster, designed by Shepard Fairey. If you don't already know what MILF stands for I won't ruin the surprise. Just make sure you don't Google the term from work.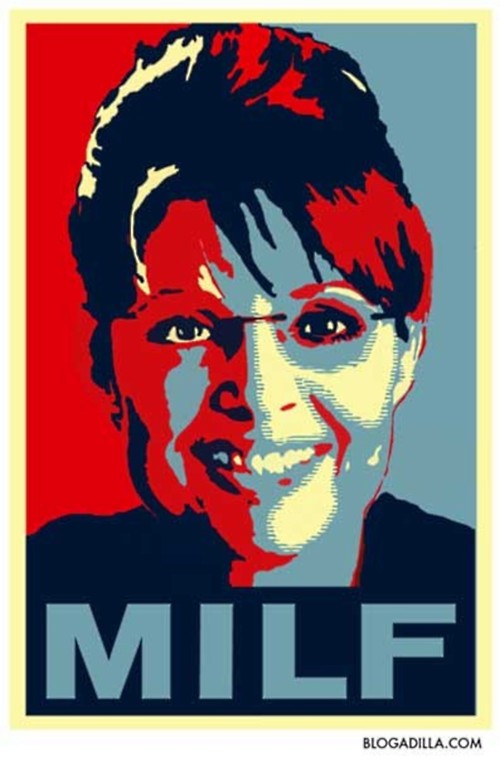 Even Palin's fans are can't resist the lure of her image, as in this fantasy nude by Chicago bar owner and Red-Stater Bruce Elliott.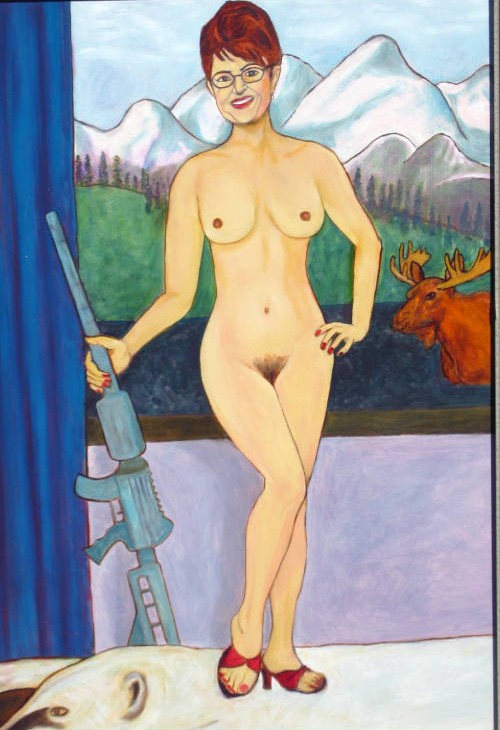 Elliot isn't the only one to imagine Palin in the buff. Penelope Tuesdae of Trigger Happy shows us her beaver: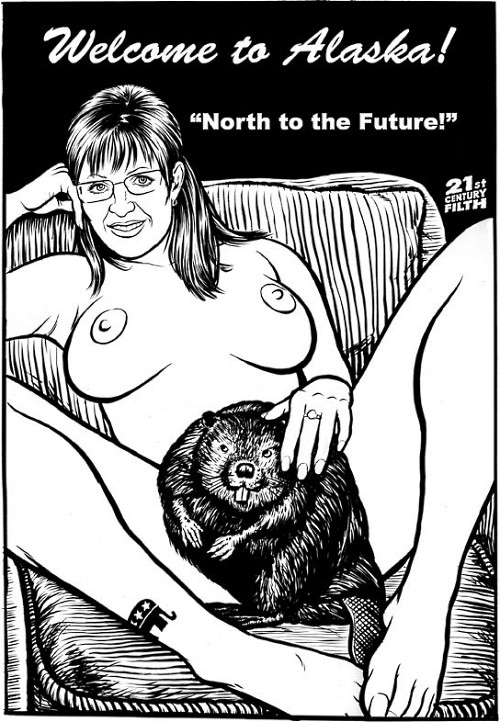 Dan Lacey, self-styled "Painter of Pancakes", had his way with the Alaskan's famous wink. I think she looks just stunning with a buttered hotcake for a bonnet, don't you?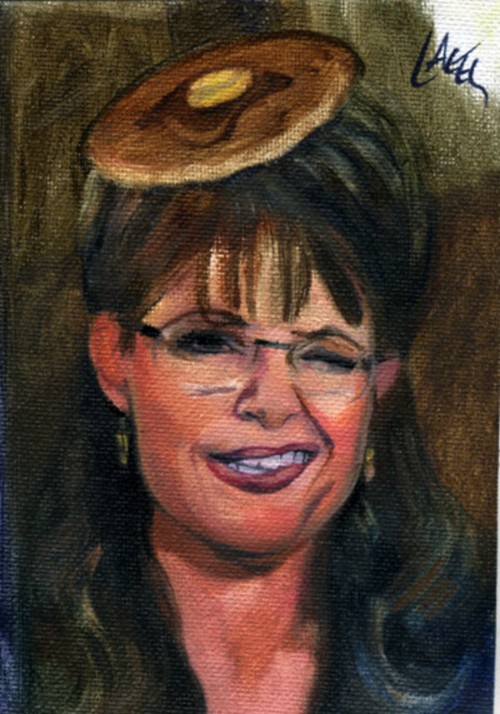 The softer side of Palin is sewn onto this pillow by Lauren F. Adams: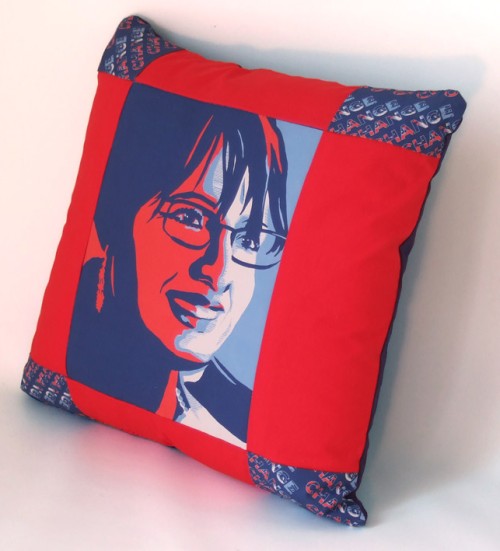 Perhaps this isn't exactly how McCain felt the morning after his defeat, but Zina Saunders, who also created the image of Palin riding a dinosaur at the beginning of this post, seems to have captured something:




Beth Newell is even more blunt about the results of the Palin-McCain hookup: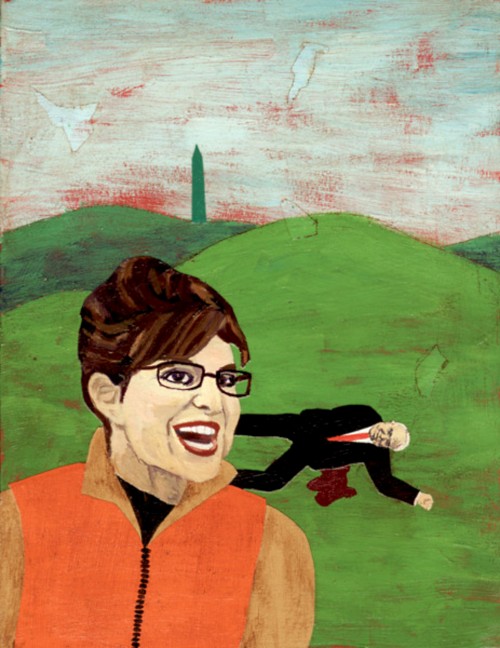 Jay Farley captures the eagerness and ambition of Palin in an illustration that, despite getting all the little touches right, somehow manages to look very little like the famous lady from Wasilla.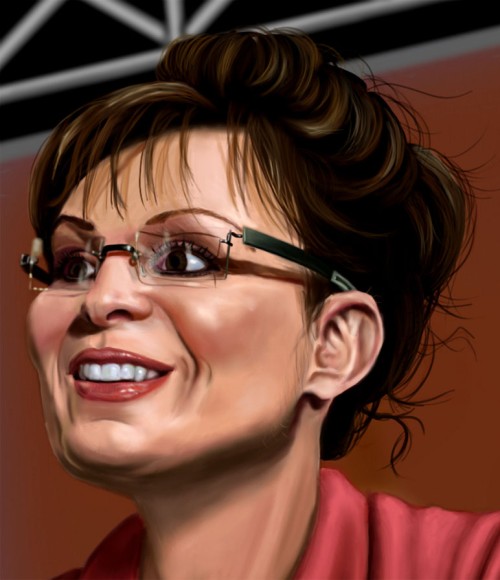 Jeremiah Palecek has seen Palin's third eye. But is it blind?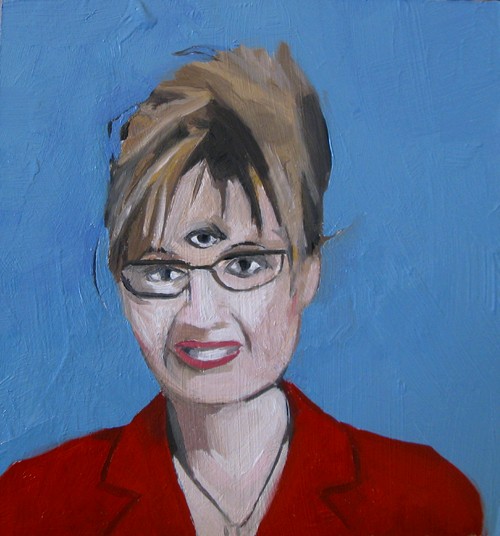 Chad Smith created this scary-looking Sarah Palin out of duct tape, one of his artistic material fetishes.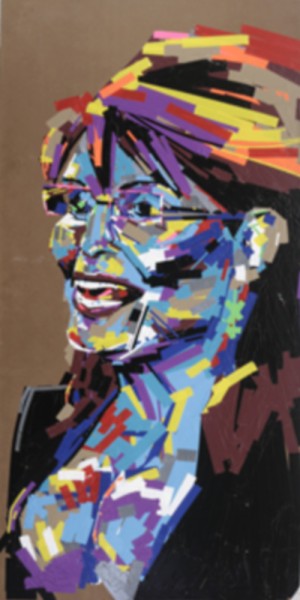 There are more zombie Sarah Palin's online than I could ever want to put in this post. My favorite is by Mark Hammermeister: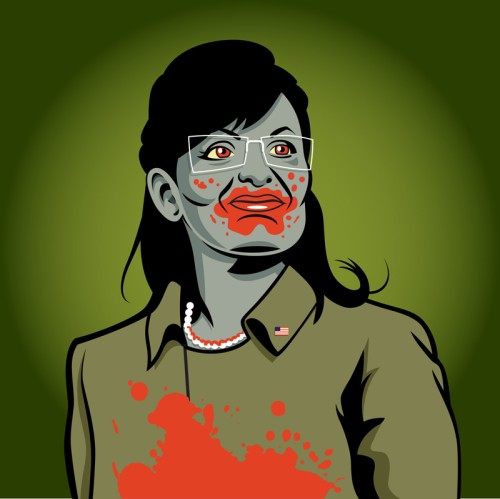 Saunders gets the final say with this wonderful image in honor of Palin's decision to step down as Governor.